Pattern available on Ravelry and Etsy.
When Leann of Forbidden Fiber Co asked me about creating a crochet design for her Buffy the Vampire Slayer inspired Mystery Box, I instantly jumped at the opportunity. And when I started watching the show again (for "research" of course), it was like being instantly transported back to my childhood!
Or perhaps, more accurately, young womanhood. I probably didn't actually watch it while I was in high school because we only got four channels except for on Saturdays when Dad would go outside and turn the antenna so we could get channel 38 and watch cartoons (he liked them, too).
You know what, I take it back. He DID get satellite TV maybe at some point before I finished high school. Maybe. Probably. I vaguely recall watching MTV, you know back when they actually played music videos. But I'm betting I didn't watch Buffy until I was in college. Still. Quite the backwards zoom!
While I was brainstorming for the pattern, the possibility of using spike stitches popped into my head and I may or may not have cackled with glee when it happened.
Spike! Spike stitches! I liked Spike. He might have been my favorite character (although I wanted to smack him sometimes, too). It was perfect!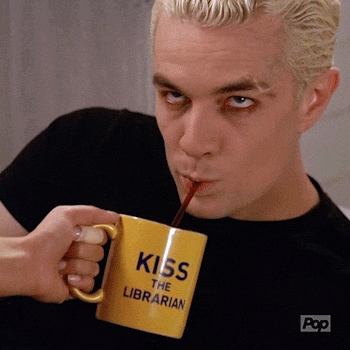 Halfway through my rewatching I was convinced that not only were spike stitches going to be part of the design, but that it would also be named in some way that tied to Spike.
Well, the spike stitch part was easy. I'd even done some recently for the Sibyllinity Scarf!
The name? That took a little longer.
I even read through the entirety of Spike's Wikipedia page as I searched for something that felt right.
It was when I watched "Fool for Love" from Season 5 that the name landed in my lap. Cecily. Prim and proper and evil (no, really, she later shows back up as a revenge demon!) and the catalyst for Spike's transformation.
Plus there's the alliteration, which I'm totally a sucker for. So yeah, it might be a little obscure, but I kind of like that. A hidden gem for fans of the show. And not a slap in the face for anyone who doesn't love a good vampire drama!
Here's my best drama pose:
The design doesn't begin with spike stitches, though, just as the show doesn't begin with Spike.